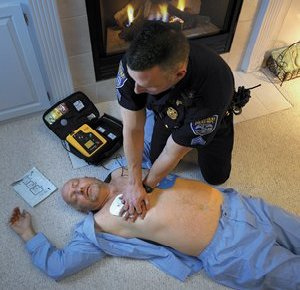 Why using an automatic defibrillator could not be simpler!
Cardiac Arrest, the UK's biggest killer, affects over 140,000 people in the UK each year. They can affect anyone, any age at anytime. Once somebody suffers a cardiac arrest an automated external defibrillators (AED) must be deployed with 5 minutes to avoid death and irreversible damage to the vital organs. However, when it comes to using a lifesaving defibrillator many people are afraid.
How to use an automatic defibrillator
This simple article should explain how easy it is to use a Defib Machine in case of an emergency.
When should I use a defibrillator?
If a person is not breathing and not responding you should always presume it is a cardiac arrest. Call 999 and send someone for the closest available defib immediately, CPR should then be administered to the person until the defib arrives.
Why do I need a defibrillator and to do CPR?
During cardiac arrest the heart still contains oxygenated blood, it is just unable to pump this around the body. CPR aids in this process and stops the vital organs from being immediately starved of oxygen. However, the supply of oxygenated blood is extremely limited. Defibrillators are then the only way to restart the heart after a cardiac arrest.
How do I use a defibrillator?
Once the Defib Machine arrives, place it on the ground next to the patient and press the On/Off button. Doing this will open the lid and loud clear instructions will be provided. The user will then be instructed to attach the pads provided to the bare chest of the victim, with clear images on each pad to show their placement. Once this has been done simply step back and await instruction. The Defib Machine will then conduct a full ECG within seconds and clearly announce whether a shock is required. Only if a shock is required will the machine will administer it, providing a clear countdown. Once the shock is delivered, provide CPR for 2 minutes and await further instruction.
Can I be sued for using a defibrillator?
No. As using a defibrillator is the only recognised method of restarting a heart in cardiac arrest, they are classed as best in class care. Using an automatic defib can only provide the possibility of survival.
How many shocks should be provided?
The automatic defibrillator will continue to conduct full ECG's every 2 minutes to determine the reaction of the individual's heart to the previous shock(s). In doing so it will determine whether to increase the shock level steadily, increase the shock level to the maximum 360J, maintain the same shock level or stop if the person is no longer in cardiac arrest. This process will continue until the person is no longer in cardiac arrest or the emergency services arrive and take over.
Book a Free Automatic Defibrillator Demo
Ever wondered, how much does a defibrillator cost?
If you are still unsure about using a Defib Machine or would like to see one in action, please contact one of specialists to organise a free demonstration. You can do this by calling us on 0800 0852 733, by email on solutions@defibmachines.co.uk or simply use the enquiry form on the right hand side of this page.