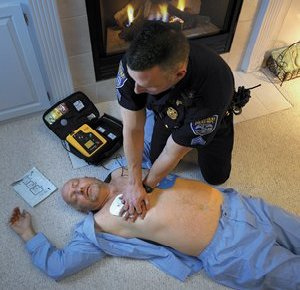 How to spot someone suffering from cardiac arrest
Cardiac arrest is one of the most common killers across the world. According to the British Heart Foundation, there are over 30 thousand sufferers in the UK every year and only one in ten survive to be discharged from hospital.
By learning to recognise the signs of a cardiac arrest the public can act quickly, and potentially save thousands of lives every year.
Warning signs of cardiac arrest
Cardiac arrest has no warning, so it is important to spot the signs immediately. Look out for a sudden loss of responsiveness. If you suspect someone is suffering from a cardiac arrest, tap them on the shoulder and ask them if they are okay. If you receive no response, check their breathing. If the victim is struggling to breath, gasping, or not breathing at all then they are probably suffering from cardiac arrest.
What action to take
If you are in a public place, shout for someone to call an ambulance and begin CPR until the paramedics arrive. However, if there is an Automated External Defibrillator (AED) near-by, this can increase the chances of survival by up to 70%. AEDs are designed so that they can be used by anyone in an emergency. With audio instructions and clear visuals, the defibrillators detect abnormal heart rhythms and will only administer a shock if necessary.
Defibrillators available to rent
AEDs can be expensive to buy, repair and maintain, however we are the UK's leading provider of full AED rental packages. For as little as £1 a day businesses can rent out their own defibrillator with a full maintenance service, 18-month replacement option, dedicated account manager, installation and much more.  You can take a look at our package options online.
Contact Defib Machines
If you have any queries regarding our rental packages across a variation of sectors, please do not hesitate to get in touch. You can call our team free on  0800 0852 733, or contact us online.