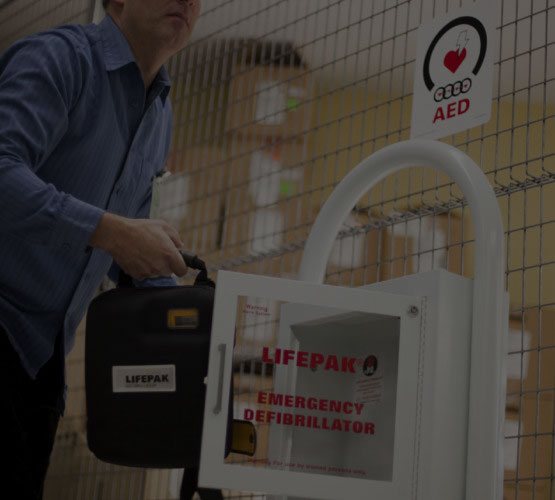 Defibrillator Maintenance – Your Checklist
When purchasing a defibrillator many people believe that once the upfront payment is made that is it. Unfortunately, this is not true.
Defib Machines specialize in providing automated external defibrillators (AED) with all-inclusive service and maintenance packages. This means your defib will be looked after for your for as long as you have a machine.
However, if you buy a device you will need to look after it. There are a number of regular checks and purchases that need to be done to keep your automated external defibrillator (AED) in full working condition. Here is a guide to a few things that you will need to do to care for your defibrillator.
Caring for your automatic defibrillator

Pads And Battery Review
An automatic external defibrillator is a professional piece of equipment which should be cared for in this way. Like most things, if it is left to one side without proper care it will rapidly become defunct. Pads and batteries need to be changed on average every 2 years, however, they will need to be changed after use. These will need to be purchased, with pediatric pads bought separately if needed.
Defibrillator pads and batteries typically have a shelf life of 2-5 years, although there is usually an expiry date printed on them. When the batteries are obsolete, it's important that you recycle of them correctly via your local council or battery recycling schemes that can be found at most supermarkets.
DO NOT PUT OLD BATTERIES IN YOUR GENERAL WASTE – this is incredibly harmful to the environment and you may even face fines or charges if you are found to be disposing of old batteries incorrectly.
Display Checks
Machines will conduct basic self-tests at regular intervals to make sure that the components of the device are working as expected. Most defibrillators will have a display which will indicate if a test has been failed, however, some simply do this with the use of a green or red light.
If a machine fails a self-test it must be looked at immediately. To do so you will need to pay a call-out charge for an engineer to review the machine, or alternatively send the machine off to the manufacturer to be reviewed which would leave you without a defibrillator for a prolonged period of time.
Dependent on the reason for the failed self-test and warranty cover the machine may need to have a part replacement which can cost over £800.
It is recommended that the devices display be checked regularly to avoid any errors being missed prior to an emergency situation, where the AED may not perform as needed.
Full Health Check
Defibrillators need servicing by professionals regularly, at the very least once a year. Checking it over yourself is OK, but sometimes you may not be able to spot any issues that are not obvious. This is why it's imperative to have a professional service on your defibrillator every year, it could literally mean the difference between life and death.
Your device should be professionally tested every year. These tests are more stringent than the automatic self tests the device will perform and checks the machines ability to recognize different heart rhythms, diagnose them correctly and prescribe the correct action.
As defibrillators age, this will become more important as parts will begin to age and the likelihood of device failure increases if they are not properly cared for. These health checks can pick up faults that are missed during a self-test, or that the device itself cannot recognize.
How is the AED Tested?
It is important to ensure that regular AED tests are carried out to ensure all aspects of the defibrillator is in working order. More frequent checks should include a visual scan where you look for any damage or missing parts.
Whereas you can carry out more extensive checks on a less frequent basis like every one or two months or so to evaluate the condition of your AED's pads, battery and other associated equipment. If you are anything less than 100% confident in effectively completing these checks, it is pivotal that you contact an expert to assist you with your efforts.
Training
Staff should receive training on how to use the machine properly and effectively. This should be organized for when, or shortly after, the defibrillator is installed. Refresher courses must then be booked on going to stop skills for deteriorating.
AED courses are run by the majority of training providers and costs an average of £105 per person.
Warranty and Product Re-Calls
Warranties should be checked carefully prior to purchase to check what is covered by the manufacturer and for how long. Components such as batteries are often not covered for the full term of the total warranty. You should always be aware of what can be claimed back in case of a fault.
After purchasing you should also remain aware of product recalls on machines. AEDs can be recalled if there has been a regularly occurring issue with the device. If this occurs you must be aware of this, as missing the call back date can often void a warranty.
Replacement
Eventually, your purchased defibrillator will need to be replaced. As with anything they have a shelf-life. Dependent on servicing and usage machines can last for between 5-7 years. After this time a replacement is recommended.
We understand at Defib Machines that defibrillators are a significant investment for a company and need to perform if and when called upon. For this reason, all our machines come with all-inclusive service and maintenance packages. This takes the responsibility of caring for the machine off yourself and places it with our trained staff.
Having a Defib Machine provides you with a 'Defib For Life'. With full replacement of devices if an error occurs, if it is ever used or optionally every 24 months, as long as you have an agreement with us you will have a fully working defibrillator.
There are options when it comes to choosing an AED for installation, Defib Machines only offer the most proficient variants which can be trusted when it matters most. Take a look at our portable AEDs.
Not only can an AED save lives in the workplace, when rented from Defib Machines there are also huge savings to be made. From £1 a day, safeguard lives with an AED rental package.
Order A Fully Maintained Defibrillator Online
If you would like to find out more about our full service and maintenance package, about Defib Machines or about caring for your machine call us free on 0800 0852 733. We also have a helpful guide if you are interested in finding out the defibrillator prices.
Alternatively, one of our friendly staff members will get back to you soon when you use the enquiry form on the contact us page.