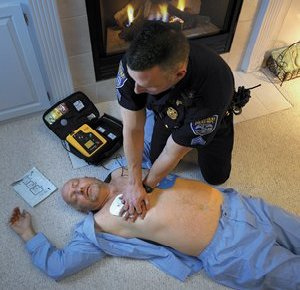 How do I spot a cardiac arrest?
Cardiac Arrest is the biggest killer in the UK, affecting over 140,000 people each year. Sadly, a huge number of these deaths are preventable with the use of a defibrillator. As the only way to save a person in cardiac arrest, a defibrillator increases a person's chances of survival from 5% to over 75% when deployed within 10 minutes of the arrest. However there is a growing concern within the UK of how to spot a person in cardiac arrest.
Can I Tell the Difference Between a Cardiac Arrest and Heart Attack?
Unlike a heart attack, a victim of cardiac arrest will collapse without warning; be unresponsive and not be breathing normally. Often the victim may also undergo a seizure or fit, which can often be misdiagnosed as epilepsy. They may also be breathing heavily or erratically, a condition known as Agonal Breathing.
The European Resuscitation Council (ERC) and UK Resus Council recommend a cardiac arrest should be presumed if a person;
Collapses without warning or is found unconscious
Not responding
Is not breathing or not breathing normally
Is spotted having a seizure
If these characteristics are it is essential that a defibrillator is accessed immediately to save the life of the victim.
Find out how much a defibrillator costs.
For more information on cardiac arrest, automatic defibrillators or our fully inclusive deals please call 0800 0852 733 or email solutions@defibmachines.co.uk to speak to one of our specialists.