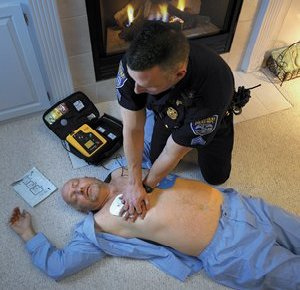 Free Defibrillator Training with Defib Machines
Having an automated external defibrillator (AED) to hand allows for life saving resuscitation to be provided within the needed 5 minutes following a cardiac arrest.
Unlike when purchasing a defibrillator, where training is purchased separately from £105 per person, Defib Machines provide free training with all devices on installation. Refresher courses are then given when we visit to provide on-site health checks of the device, every 24 months.
FREE DEFIBRILLATOR TRAINING BY PROFESSIONALS
By providing training we remove any fears of using the device in an emergency and allow any questions you may have to be fully answered.
Our training provides people with a full understanding of how automated external defibrillators work, how to identify a cardiac arrest, the procedure to follow and how to effectively use a Defib Machine to save a life.
This training is available to any staff members who require it or would like to know how to use a defibrillator for their own personal knowledge.
It is our belief that everyone should know how to use a defibrillator and be prepared to save a life when the moment comes. Including this as part of our full-service package means that you never have to worry about finding an external supplier to provide this. We will organize all training sessions around your working calendars.
WHY CHOOSE DEFIB MACHINES FOR FREE DEFIBRILLATOR TRAINING?
The dedicated Defib Machines team have over three decades of experience in providing potentially life saving equipment to an array of different customers. We understand how significant the numbers of cardiac arrest deaths are in Britain, and we aim to help communities up and down the UK in reducing this number.
We have conducted extensive research to ensure that we only provide the best equipment and free defibrillator training to our customers. We believe that no one should deter from securing a defibrillator or the training required to use the relative equipment because of the costs, which is why we supply our services for a price that everyone can afford.
CONTACT DEFIB MACHINES FOR FREE DEFIBRILLATOR TRAINING
Defib Mahcines offer a number of other benefits included in our £1-a-day Defib Machine managed packages.
Alternatively, why not find out how much does a managed defibrillator cost?
If you would like to find out more about our training, full service and maintenance package or about Defib Machines call us free on 0800 0852 733.
Alternatively you can use the enquiry form on the contact us page and one of our friendly staff members will get back to you soon.