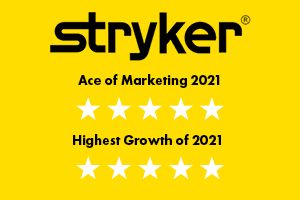 Defib Machines Receives Stryker EMEA Awards
Find out more about Defib Machines carrying home not one, but TWO awards from the Stryker EMEA ceremony.
Above and Beyond in More Ways Than One
Defib Machines has been recognised as one of the leading UK providers of AEDs in the recent Stryker EMEA industry awards, winning both 'Ace of Marketing 2021' and 'Highest Growth of 2021'. 
The awards recognise that Defib Machines is providing more of these devices to people over the last 12 months than anyone else across Europe, Africa and the Middle East.
Further to this, the awards also recognised our brand's ability to communicate with customers quickly and effectively, alongside providing clear and concise information.
With global shortages impacting all industries, and being felt by other providers, Defib Machines has been able to withstand this, meaning that fortunately our customers have not had to bear this burden, with no delays experienced for new devices or serviced devices.
Defib Machines Director, Jonathan Gilbert commented: "It's a privilege to have received both of these Stryker awards. At the root of all our work, Defib Machines aims to help reduce cardiac arrest deaths across the UK by making working AEDs available to everyone, with budget not being a reason for a company not to have one. We now support various sectors across the UK with the equipment, education and ongoing support to keep people safe from cardiac arrest in the workplace". 
What Are the Stryker EMEA Awards?
The prestigious Stryker EMEA Awards 2021 were held in Barcelona, Spain, in recognition of the work that has been carried out over the past 12 months. 
Stryker is one of the largest medical equipment providers in the world, and they invited companies that provide equipment throughout the EMEA regions to the ceremony. 
The awards provide an opportunity to commend and celebrate the achievements and hard work within the European, Middle East and African medical equipment provider industry, as a multitude of businesses save and change lives for the better year on year. 
Putting Our Customers First
Defib Machines has a long history supporting businesses and organisations up and down the United Kingdom and beyond with access to safe and reliable AED machines.
Our AED machines can be rented for as little as £1 a day. To find out more, contact our friendly customer service team online or alternatively, you can call us on 0800 0852 733.