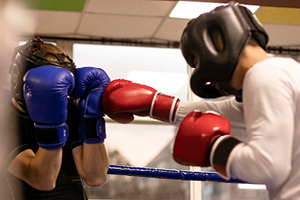 AED Machines Made Mandatory in Every England Boxing Club
Driven by the Every Beat Counts Defib Campaign, as of June 2022, member clubs of English Boxing must have a defibrillator machine on their premises at all times.
The Every Beat Counts Campaign has enlisted the support of London Hearts to support their endeavours at a reduced cost to boxing clubs up and down the country.
What is the Every Beat Counts Campaign?
Prior to the emergence of COVID-19, England Boxing looked to introduce the mandatory requirement for its members at the beginning of the 2020/21. However, due to the circumstances they delayed this new rule and it will now come into play on the 1st June 2022.
The new membership rule outlines that any member must have a working defibrillator on site, with only a 5 minute walking distance between the boxing ring and the defibrillator station.
Every Beat Counts is now working with England Boxing members across the country to facilitate the installation of a defib machine to meet their membership requirements by June 2022.
Growing Pressure for Sporting Venues
It's becoming increasingly clear that sporting venues necessitate AED machines on-site or in a 5 minute proximity. There is an overwhelming amount of evidence to back up the demand for defibrillators, with 90-95% of cardiac arrests proving to be fatal without immediate treatment.
Following the COVID-19 pandemic, out of medical facility cardiac arrests has risen from an already high figure of 30,000.
An accumulation of headline dominating incidents captured the attention of many, particularly during the summer of 2021, as Christian Eriksen required a defib machine after collapsing during Denmark's World Cup game against Finland.
Later in the year, a Newcastle football fan suffered a cardiac arrest in one of the stands at St James's Park in October 2021.
Thanks to life saving equipment being on site, both men survived their cardiac arrests following the employment of a defib machine.
Employ an AED in your Boxing Club with Defib Machines
Are you a member of England Boxing? If so, Defib Machines can support and work with your organisation to comply with the upcoming mandatory defib requirement.
Our industry leading AEDs save lives and can be installed in a number of sporting facilities. Defib Machine's dedicated experts will not only install your machine but also provide training on installation day to ensure it is used correctly.
To find out more information, contact a member of our team online or call us on 0800 085 2733.