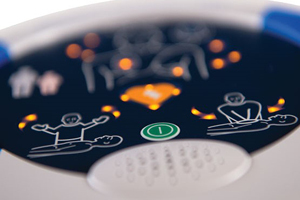 A Guide To HeartSine
HeartSine are a leaning manufacturer of automatic external defibrillators in over 70 countries worldwide. The brand specialises in Public Access Defib (PAD) machines, which are designed for use by the general public in the event of sudden cardiac arrest (a heart attack).
An automatic defibrillator delivers an electrical shock to the body of a cardiac arrest sufferer and works by attempting to restore the heart's normal rhythm. This process can make all the difference between life and death.
What is the history of HeartSine?
HeartSine was founded in 1998 by Professor John Anderson, a pioneer of the world's first mobile defib machine, developed at Royal Victoria Hospital in Belfast.
But the origins of the brand can be traced back to the 1960s and 70s, when the first defib machines and subsequent machines were tested and improved.
The first 'Samaritan' automatic defibrillator by HeartSine was launched in 2001. Newer, more lightweight, reliable and durable models have since been developed.
What technology does HeartSine use?
HeartSine provide market leading technology resulting in best in class therapy being provided when it is need most.
The technology used allows the device to quickly and effectively review the rhythm of someone's heart and make the decision of if a shock is required. A shock can only be required when needed to restore the heart to a normal rhythm. The speed at which this occurs and the method this is provided by the HeartSine provides an increased chance of survival.
Simple and easy to use, this AED has been designed to be used in pressure situations. It's clear and simple instructions make it easy to follow and save a life, even if you have not seen how a defib works before. Defib Machines understand the importance of education around AED's and make training a key part of our offering, with onsite training provided on installation and regular onsite training ongoing.
Alongside the technology used, HeartSine AED's are protected by a robust IP56 rating, the highest rating of an AED available in the UK. The device is also, on average, half the size and a third of the weight of other devices on the market. This means that it can be retrieved and arrive at the scene of a cardiac arrest and applied quickly to the person, in a situation where every second counts.
This best in class technology, build and quality paired with the market leading service, maintenance and training provided by Defib Machines means that your AED is kept in full working condition for when you need it most, without you having to think about it.
Which HeartSine defibrillator is the most popular?
The HeartSine Samaritan 360P AED and HeartSine Samaritan 350P AED are the two most popular defibrillators in the range.
Although they are broadly similar, there are some differences.
The 360P edition is completely automatic. The device monitors the heart and then, if required, will deliver a shock automatically if there is a suboptimal rhythm.
Other defibrillators require the user to press a button to deliver the shock..
The 360P has been named the best public access defibrillator overall and is widely praised for its ease of use, fast charging, and overall quality.
It is among the most compact and best performing defibs on the market.
Order a HeartSine defib from just £1 a day
Defibmachines provides defib machine rental from just £1 a day. Our all-inclusive service features free installation and training, on-site servicing, replacement pads and batteries, signs, and wall brackets. We use the latest HeartSine defibrillator models that are super-easy to use, reliable, and effective.
Visit our website to find out more about our £1 a day defib hire or get in touch with us for further details.