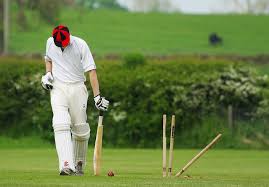 England International Cricketer provides stark reminder to young sportsmen
On 12th April 2016 one of England's brightest young cricket stars, James Taylor, announced his retirement from the game. This came as a shock to the sporting world as at 26 it was expected that Taylor would go on to great things with his best years still ahead of him.
The reason for his retirement was the discovery of a serious heart condition called Arrhythmogenic Right Ventricular Cardiomyopathy (ARVC). ARVC is the same condition which almost cost Fabrice Muamba his life. It can often go undiscovered until after fatal a cardiac arrest, unfortunately commonly affects young athletes.
Defib Machines are instrumental in the preventment of cardiac arrest having fatal results by providing businesses with Defibrillator Rental Packages ensuring treatment is available in an emergency situation.
Defib Machines wishes James Taylor well
Taylor underwent tests after complaining he felt light headed and had a high heart rate after an innings for county side Northamptonshire CCC. This followed complaints from the player about feeling drowsy and tired whilst away on pre-season training. Once the results came back Taylor was strongly advised to retire from all forms of cricket and immediately scheduled for surgery to fit an internal defibrillator (ICD).
Stood at just 5ft 6in, Taylor quickly became a fan favourite for county and country. Known for his batting ability he recorded over 9,000 first class runs during his time at Leicestershire, Nottinghamshire and England. Coaches throughout the game have recorded their shock at the emergence of Taylors condition with many mentioning his high level of fitness, especially in comparison to his fellow professionals.
Although his retirement has shocked the game of cricket, it must be remembered that this could have ended in a fatality. All at Defib Machines wish Taylor all the best in his future careers and with his health.
Prevent Cardiac Arrest with Defib Machines
Cardiac arrest is still the biggest cause of death in the UK with over 140,000 cases recorded in the UK each year. As can be seen from the above, this can affect anyone from healthy sport stars to children in schools to people in the office. Protect yourself by installing an automatic defibrillator for just £1 a day. To find out more about our all inclusive offering either call us on 0800 0852 733 or by contacting us online and one of our friendly specialists will get back to you shortly.
Read our guide that breaks down Defib Machines' and rivals' defibrillator price.