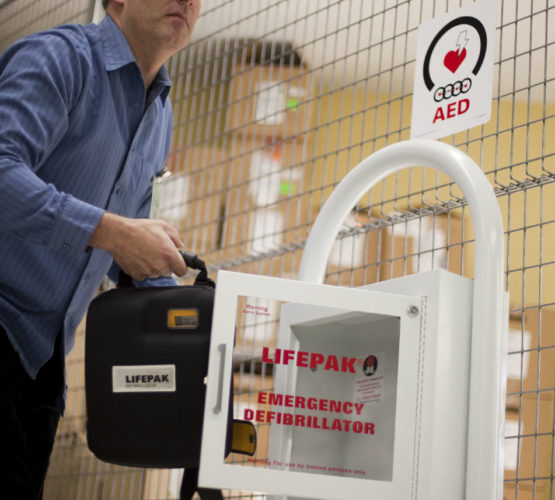 Defib machines for public places
The likelihood of surviving a cardiac arrest increases significantly when there is a defibrillator nearby that can be used. An emergency can take place at any time and in any location, so being prepared is key.
Defib Machines is a leading supplier of life-saving defibrillator to public areas with equipment available to rent from just £1 a day.
Defibrillators from Defib Machines
Defib Machines supply models like the HeartSine Automatic Defibrillator to all kinds of public spaces. The HeartSine machine can be used by anyone that is close to the situation as it gives clear, audible and easy to follow instructions. A shock is only delivered if it is needed, removing any potential human error or hesitation.
Defibrillators are usually kept in cabinets in prominent public locations that experience a high volume of use. They are clearly signed and lit to make them easy to find in the event of an emergency.
In some instances they are locked to prevent vandalism and damage. If the case is locked, then the ambulance service will give the 999 caller the code the unlock it, allowing them to retrieve and potentially use the machine.
Having a defibrillator nearby can help to prevent death from cardiac arrest. Defib Machines provides a comprehensive package that includes installation, instruction on its use and full service care to make sure it is always in correct and working order. From just £1 a day you can make sure your public or private space is prepared with the HeartSine Automatic Defibrillator.
Rent a defibrillator
If you would like to find out more about the HeartSine Automatic Defibrillator, then feel free to get in touch with our specialists today. Call the Defib Machines team now on 0800 0852 733 or fill in your details and contact us online.