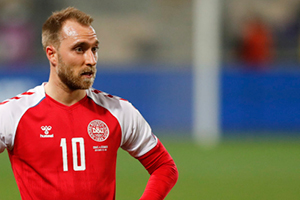 Christian Eriksen's Cardiac Arrest – What We have Learnt
With over 140,000 deaths recorder per year, cardiac arrest is the most common cause of death in the UK. Recent events during Denmark's opening Euro 2020 game against Finland, saw the unexpected collapse of 29 year old Inter Milan player, Christian Eriksen. In the 43rd minute of the football match, the Parken Stadium fell silent as Eriksen collapsed to the ground after receiving a throw in from Danish left-back Joakim Mæhle.
It didn't take long until the players and referee realised something was seriously wrong with Christian, as he lay on the pitch motionless.
Swift Action
Danish defender Simon Kjær was one of the first players to realise the severity of the situation, alongside Thomas Delaney and Joachim Mæhle. Both the referee, Anthony Taylor and Finnish Goalkeeper Lukas Hradecky, were also aware that something was very wrong.  In a clever move, Kjær rapidly put Eriksen on his side and ensure his airways were open before both Moren and Anders Boesen entered the pitch to assist further and it soon became apparent that Christian Eriksen was suffering from a cardiac arrest. As trained doctors, the Boesen brothers knew the importance of deploying the defibrillator device quickly. Studies show that using an AED machine within 3-5 minutes of collapsing, can increase a persons chance of survival to between 50-70 percent.  Through the delivery of CPR and one shock with the defibrillator, the medical team managed to regain Eriksen's heartbeat.
Crucial Reminder of the Importance of AED's at Events
In the UK alone, only 10 percent of people who suffer a cardiac arrest will survive the event outside of hospital, this is predominantly due to the slow response with regards to CPR and defibrillation. As previously mentioned, the quick response to Christian Eriksen's cardiac arrest played a significant role in his survival from the ordeal. Consequently, it couldn't be anymore evident how imperative it is to have a defibrillator available as this type of occurrence highlights the fact that cardiac arrests can happen to anyone, anytime, anywhere.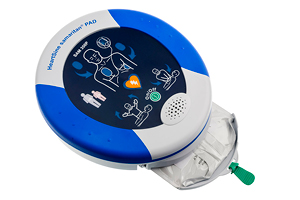 Invest in Life Saving Equipment with Defib Machines
Ensure your space is equipped with life saving equipment from Defib Machines. As a result of installing an automatic defib for only £1 a day, you can have peace of mind that the appropriate equipment live saving equipment is on site if required.
Get in touch with a member of our friendly team online or alternatively, you can call us on 0800 0852 733.